Light Up Your Home! Increase Home Value, Power Savings, Reliability and ROI!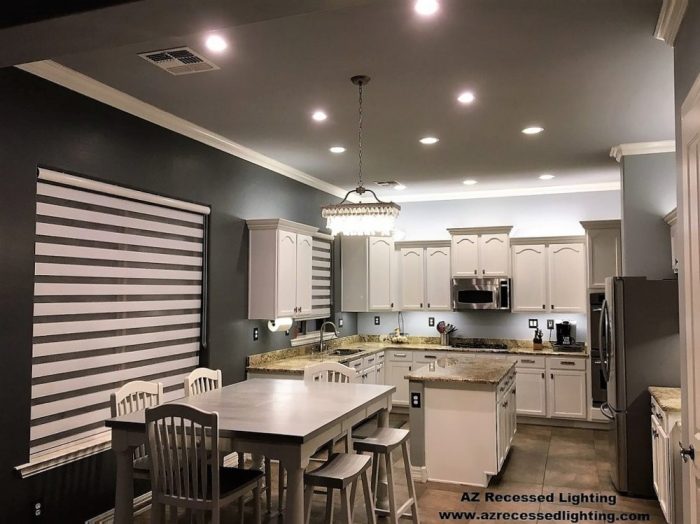 Electrical Contractor in Phoenix, AZ
Finding the right Electrical Contractor in Phoenix, AZ can be a challenge. AZ Recessed Lighting is your local expert for LED lights and recessed lighting! Whether you're looking to brighten up your kitchen, hallway or garage, our lighting contractors can install the lighting that meets your needs. We're delighted to help our customers explore the many benefits of lighting in their homes.
Explore Lighting Solutions
Whether for your kitchen, bathroom, basement or garage, our lighting is an ideal way to light your living space. Contact us today to learn more about its many benefits!
Bring the Benefits of Great Lighting Into Your Home
For a simple, cost-effective way to modernize your home and improve your daily quality of life, consider the many benefits of upgrading with our lighting contractors if you're in Phoenix, Peoria, Glendale, Tempe, Chandler, or Scottsdale, AZ. Since 2013, AZ Recessed Lighting has been helping homeowners realize the value that LED-based lighting has to offer—both in its cost-savings over incandescent lighting and its consistency in lighting color and vibrancy. Whether for your kitchen, bathroom, bedroom or some other area of your home, we're on-call to modernize your lighting by retrofitting lights. We'll help you get the most out of your lighting, in your quality of life and when it comes to your wallet.
Customers choose us for lights in Phoenix, AZ because of our hassle-free approach to installation and our penchant for a job well done. We value and respect our customers, and we work hard to deliver results that are optimal for you and your home. We always communicate clear appointment times and work quickly to facilitate a complete and thorough job. You'll never have to deal with hidden charges or fees with us, either. Our goal is to deliver quality products, at affordable prices, with results that you'll appreciate in your living space each and every day moving forward. We invite you to contact us today and see for yourself!
We're a fully licensed electrician (CR 11 ROC 256379).
In an effort to support local businesses, we take pride in buying all of our products from local suppliers.
Customer satisfaction is our number one priority, above all else!
We're equipped to work on brand-new installations, as well as retrofits.
We're able to provide you with a free estimate on upgrades.
Areas Served
Proudly offering lighting and light installation throughout Maricopa County, AZ including the following areas:
Peoria, AZ
Phoenix, AZ
Scottsdale, AZ
Glendale, AZ
Anthem, AZ
Tempe, AZ
Surprise, AZ
Mesa, AZ
Chandler, AZ
Gilbert, AZ
Carefree, AZ
Avondale, AZ